The components of Relaxation Success were initiated, created, performed and sourced by Matthew, Rick and Rosemary.

Matthew Harding
Matthew has played with various bands in and around Melbourne, Australia, for at least 26 years and probably more. Armed with his saxophones, vocal chords, keyboard and a sense of humour, he will play pretty much any where, any time. As the co-composer and musician on the best selling Relaxation Music albums "River to the Sea" and "Sea to Sky" and Guided Meditation album "Simply Relaxation", Matthew enjoys exploring the opportunities for music on the internet. He was playing with Rick in a rock band years ago and at the time was also working at a shop that sold relaxation music..... one day he said to Rick, "hey, we could do that". So they did.

Matthew also enjoys helping people with their website creation and DIY website needs, preferably while consuming more than his fair share of ice-cream.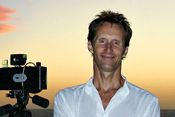 Rick Plumridge
Rick has been playing piano and keyboards for longer than he cares to remember, and singing since before he could talk. A very clever musician and recording engineer, Rick twiddled most of the mixing desk knobs during the recording sessions for the two relaxation music albums "River to the Sea" and "Sea to Sky" as well as the guided meditation album "Simply Relaxation". Rick has also played with more bands than he would like to admit, and like Matthew, has had more fun doing it than perhaps he should have. Rick is also a very impressive graphic designer. His landscape photography is simply stunning and is a "must have" in any collection.
Rosemary Bennett
Rosemary is a lecturer at Monash University, teacher, international speaker and expert in personal health and well-being. Rosemary began offering guided meditation and guided relaxation as a part of her regular classes.... and soon she was asked if she had any recorded material for students to use at home. While waiting to pick up her daughter from Choir rehearsal one day, she began a conversation with Matthew, who was also waiting to collect his daughter.......so into Ricks recording studio they went and thus "Simply Relaxation" was born. Other relaxation audio programs are inside Rosemary's head, just waiting to be let out....

(on a side note, both Matthew and Rosemarys' daughters sing like angels !)